The Priest, as the servant/leader, oversees the entire life of our Church with the Parish Council and with the support and efforts of all who volunteer, assist, and labor for our Parish.
Father Alexander Karloutso
Father Alexander Karloutsos is the Vicar General of the Greek Orthodox Archdiocese and Special Assistant to His Eminence Archbishop Elpidophoros of America. He is the Spiritual Advisor to the Order of Saint Andrew, Archons of the Ecumenical Patriarchate in America, and to Faith: An Endowment for Orthodoxy & Hellenism. He also serves as the representative of the Archdiocese to the White House, the Congress, state and local officials, Greek American organizations, political action, religious freedom and human rights groups. Father Alexander is also the pastor of The Dormition of the Virgin Mary Church in the Hamptons and serves as the Orthodox Christian Chaplain for the Port Authority of New York and New Jersey. He was previously Executive Director of Leadership 100, serving from 1986 to 1992 and 1999 to 2004, and was appointed by Archbishop Iakovos as the first Vicar of Public Affairs of the Greek Orthodox Archdiocese of America in 1985, holding that position simultaneously until 1992 when he was appointed Special Assistant to His All Holiness Ecumenical Patriarch Bartholomew at the Ecumenical Patriarchate of Constantinople. In 1994, The Ecumenical Patriarch personally elevated Fr. Karloutsos to the prestigious office of Protopresbyter of the Sacred See of Saint Andrew
Father Alexander is married to Xanthi Karavellas Karloutsos. They have three children, happily married, and nine grandchildren, Alexander, Konstantine, Xanthi, Luca, Konstantina, Demetrios, Steven, Leo and Michael.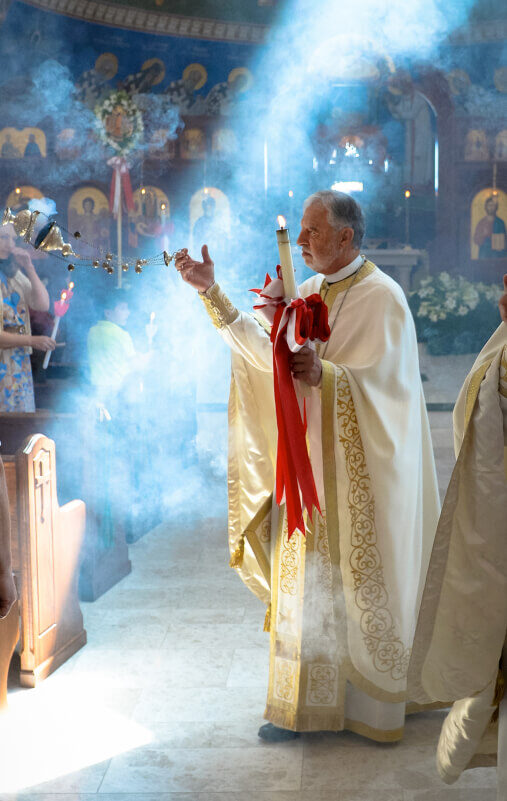 Father Alexander Karloutsos, Protopresbyter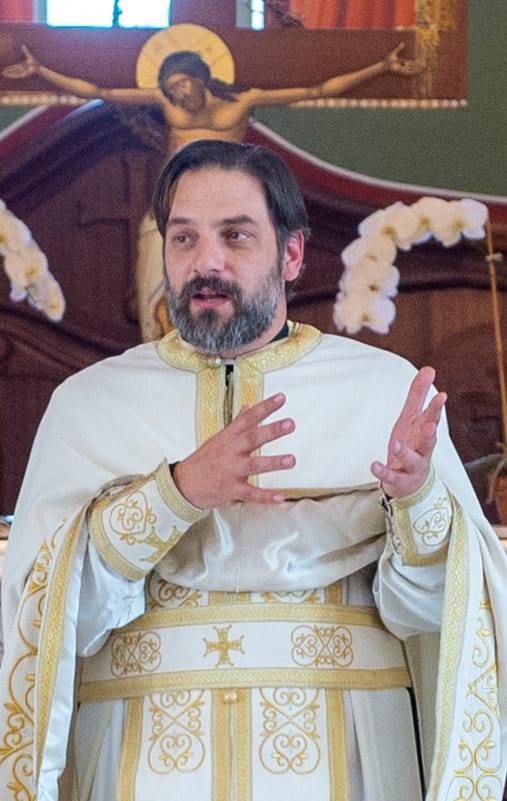 Father Constantine Lazarakis, Presbyter
Father Constantine Lazarakis
Father Constantine has served the Dormition of the Virgin Mary Greek Orthodox Church in Southampton, New York since August of 2010. Born and raised in Salt Lake City, Utah, he worked for his father's painting company assisting with the family business and also in a group home for adolescents and adults with developmental disabilities prior to attending seminary. He attended Hellenic College and Holy Cross Greek Orthodox School of Theology, completing his theological training with Masters Degree in Divinity in 2002. He was ordained to the Diaconate on October 27th, 2003 by His Eminence Metropolitan Isaiah of Denver, and to the Priesthood on February 26, 2006 by His Eminence Archbishop Demetrios of America.
Father Constantine focused primarily on Youth Ministry prior to his assignment at Dormition of the Virgin Mary, serving in a variety of capacities at the Greek Orthodox Archdiocese of America and in Summer Camps throughout the Archdiocese. He served as director of Ionian Village, the Archdiocesan travel abroad summer camp program, from 2002 to 2008.
In addition to his duties at the parish, Father Constantine currently serves on the Advisory Board of US Autism Homes and Luv Michael, a non-profit granola company devoted to providing meaningful employment and fair compensation to people with intellectual disabilities. He serves on the Town of Southampton Addiction and Recovery Task Force, and on the Board of Directors of East End Disabilities Inc.
Father Constantine enjoys creative writing, reading poetry, and cycling. He lives in Southampton with his wife, Anastasia Karoutsos-Lazarakis and their three Children.